About The Artist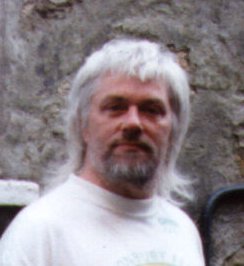 Statement
Thinking in the western world is becoming increasingly linear. Ruled by money, computers and power structures, our ability to see and think is diminished by the callous use of words and mathematics. There is a need to appreciate our own humanity and to interact with the earth and the universe with respect. We are the product of our linear thinking.
Through my work I seek to demonstrate the subtleties our materialism hides and draw attention to the profound and underestimated effect we have on ourselves and our surroundings.
The Artist
Ken Nathan is an artist based in the U.K. His work has been described as colourful, vibrant and energetic. Underlying is an aesthetic that defines the frenetic lifestyle of the present era, focusing on the fundamental dynamic of human life and our current preoccupation with 'progress'.
His artistic career had effectively begun by age ten, since when he has produced artworks continuously, primarily through the use of paint. He studied Fine Art in London and has had six one man shows in Britain with many contributions to mixed shows including the ICA. He has work in private collections in Britain and The United States.
The Work
The original expressionistic stance continues to underpin an expanding freedom in his art. His work now draws in new materials and disciplines. Much now includes found objects with a move towards sculpture and collaborative pieces. There is a growing interest in multi discipline and 'active' artwork incorporating electronics and other mechanisms.
He likes to experiment, is innovative and quite prolific, producing thirty to a hundred pieces a year. The scale of the work can be very varied with pieces ranging in size from a few inches to ten or more feet. Much remains essentially 2 dimensional and designed to be hung on walls but sculptured pieces are increasing.
Contact
Further details are available from:
Ken Nathan
17, Market Street, Caernarfon, Gwynedd LL48 6EF or
c/o 76, St. Quintin Avenue, North Kensington, London W10 6PA
+44 (0)7970 955483,
+44 (0)1766 771 041 (messages)
kenpaints@yahoo.com
For sales and information concerning exhibitions contact:
Peter London, +44(0) 7956 572037 email: hyperion.london@virgin.net